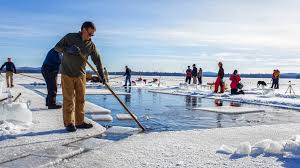 Every winter the Rockywold-Deephaven Camps (RDC) along with David White, of the White Forest Farm, head out onto the the ice on Squam Lake for a 100+ year old annual tradition. The Squam Lakes Ice Harvest!
Right about the time the ice on the lake reaches 12″ thick (usually nearing the end of January) the ice harvest team comprised of Rockywold-Deephaven Camp staff, volunteers along with David and CC White head out onto the lake for 3-5 days of cutting, herding, trucking and hauling over 3,600 blocks of ice (over 200 tons!).
Each block weighs in between 120-140 lbs. and will be used to keep ice boxes at the camps cold year-round for guests of the RDC and as a primary means for refrigeration for the White Forest Farm.
The techniques along with the equipment has been refined over decades of ice harvests. Harvesters have built a massive ice saw for the heavy cutting, they create channels to herd the blocks to the loading platform where a special winch pulls the blocks up a ramp and into the beds of awaiting trucks.
From there the blocks are hauled to ice houses and covered in saw dust until their needed throughout the summer months.
One of the last "commercial" ice harvesting operations in the world, this event is just another great example of the culture and tradition being kept alive and well on the Squam Lakes.