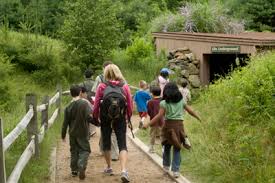 Squam Lakes Natural Science Center
Squam Lakes Natural Science Center (SLNSC) is an environmental education center and zoo founded in 1966 and opened to the public on July 1, 1969.
The science center is located in Holderness, NH. The mission of the science center is to advance understanding of ecology by exploringNew Hampshire's natural world.
The science center uses live animal exhibits, natural science education programs, and lake cruises to educate visitors about the natural world.
Using the outdoors as a classroom and native New Hampshire animals as teaching ambassadors, the science center teaches the ecological concepts of adaptations, populations, interrelationships, and habitats.